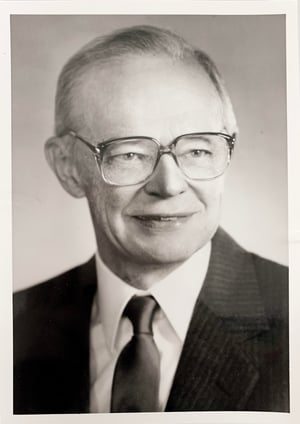 Today is the day Ronald A. Nelson would have turned 90 years old. Nelson was a prolific composer published frequently by Augsburg Fortress, in addition to serving as a full-time church musician for 37 years. As musician at Westwood Lutheran Church in the Twin Cities, he dedicated his life to church music and the development of young musicians.
Nelson was the youngest child and only son of Swedish immigrant Nils Axel Nelson and Swedish-American Alice Olson. He grew up in Rockford, Illinois, where his father worked at a piano factory and his mother stayed home. He loved to play the piano and sing, and, although the family did not have much money, his parents invested in piano lessons for him.
When Nelson was 18, he was drafted to serve in World War II, but he was rejected because he only weighed 112 pounds. Instead of fighting overseas, Nelson attended St. Olaf College in Northfield, Minnesota, where he had the opportunity to study vocal music and music theory with Olaf C. Christiansen, as well as to sing in the St. Olaf Choir under Christiansen's direction. As a senior at St. Olaf, Nelson was also able to study composition with F. Melius Christiansen. In 1949, Nelson graduated with a bachelor's degree in music education.
After graduating, Nelson taught vocal music in the Rockford Public School system for three years before becoming a church musician at the church where he had grown up. In 1951 he married his former classmate, Betty Lou Oleson, and Betty Lou joined him as a teacher in Rockford.
In 1955, after a few years of serving as a church musician in Rockford, the Nelsons moved to the Twin Cities suburb of St. Louis Park so that Ronald could take a position as church musician at Westwood Lutheran Church, where he remained until his retirement in 1992. At Westwood, Nelson developed a Saturday music school, eight choirs (six children's choirs, a youth choir, and an adult choir), and a summer music camp. At any one time from the 1960s to the 1980s, about 250 young people were involved in Nelson's musical endeavors, and to this day they refer to themselves proudly as "Ronnie's kids."
In addition to being a musician, director, and educator, Nelson was a composer. Probably his most well-known composition is his setting of the communion liturgy, which became Setting Two in the Lutheran Book of Worship (LBW) and Setting Four in Evangelical Lutheran Worship (ELW). The canticles "Let the Vineyards" and "Thankful Hearts and Voices Raise" from LBW Setting Two are now found as hymns 184 and 207 in ELW, and his harmonization of BEACH SPRING is found three times in ELW as well as several other denominational hymnals. He also wrote this arrangement of "Rejoice, Rejoice Believers." There's a good chance you have sung Nelson's music without knowing it!
After retiring from Westwood in 1992, Nelson served as interim choir director at two different churches in the Twin Cities area before stepping back from directing for good. He and his wife enjoyed walking along the various bodies of water in the Twin Cities, attending opera performances, and playing the piano together. Nelson passed away in 2014.
Nelson received numerous awards for his work, including the St. Olaf College Distinguished Alumnus Award, the F. Melius Christiansen Lifetime Achievement Award from the American Choral Director's Association of Minnesota, and the Faithful Servant Award from the Association of Lutheran Church Musicians.
We celebrate Nelson's life and his contributions to the church!
The information in this post is drawn from the biography of Ronald A. Nelson in With a Voice of Singing: Essays on Children, Choirs, and Music in the Church by Zebulon M. Highben and Kristina M. Langlois.