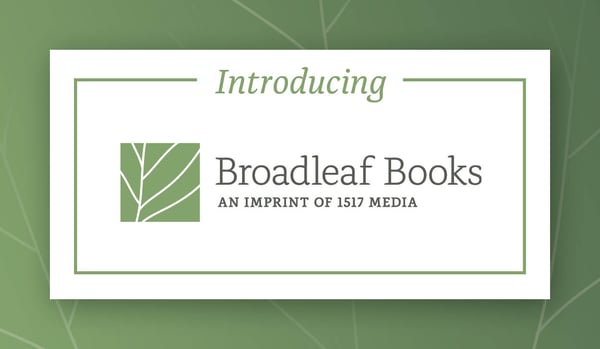 FOR IMMEDIATE RELEASE
MINNEAPOLIS – 1517 Media, the publishing ministry of the Evangelical Lutheran Church in America and the parent company of Augsburg Fortress, Beaming Books, Fortress Press and Sparkhouse, is launching a new imprint to support 1517 Media's work in reaching the general reader.
The new imprint, Broadleaf Books, is dedicated to publishing distinctive nonfiction books that address the deep religious, spiritual, and social needs of our time and will focus on categories that include religion and spirituality, social justice, personal growth, Christian living, and the intersections of religion and culture.
Tim Blevins, president and CEO of 1517 Media, said, "As a Christian publisher steeped in a grace-based, open-hearted theological tradition, our books will explore the expanse of human experience—always seeking to bring deeper understanding and wholeness to our readers and society."
Broadleaf Books follows the path set by its sister imprint, children's book publisher Beaming Books, which launched in 2016 with the mission of helping kids thrive emotionally, socially, and spiritually. Fortress Press—the imprint that a number of the general reader titles were released under recently—will continue its long tradition of publishing exclusively for the academy, for the classroom, and for church leaders across the categories of theology, biblical studies, history, religion, ministry, and more.
The inaugural 21 Broadleaf Books titles are slated to publish beginning in July 2020 and will include Just Faith: Reclaiming Progressive Christianity by Guthrie Graves-Fitzsimmons, Worth It: Overcome Your Fears and Embrace the Life You Were Meant For by Brit Barron and IRL: Finding Realness, Meaning, and Belonging in Our Digital Lives by Chris Stedman.
About Broadleaf Books
Broadleaf Books is committed to expanding the mind, nourishing the soul, cultivating the common good. Our books inspire transformation in readers and their communities to foster a more open, just, and compassionate world.  Rooted in the progressive Christian tradition and reflecting the diversity of human creativity, we publish books that engage readers in fresh, substantive, timely, and inspiring reflection on what it is to live with meaning and connection. To learn more, visit www.broadleafbooks.com.
About 1517 Media
1517 Media creates multimedia resources and distinctive books for Christian communities, higher-education learning and scholars, and the general reader. 1517 Media's imprints include Beaming Books, Broadleaf Books, Fortress Press, Augsburg Books, Augsburg Fortress, Sparkhouse, and Lutheran University Press.