Do you remember your baptism? Many of us Lutherans would have to answer no to that question because we were baptized as infants. Yet we speak of "remembering our baptism" when we dip our fingers in the baptismal font and mark ourselves or each other with the sign of the cross. What is the point of "remembering our baptism," and how can we do so more intentionally, fully, and communally?
As Christians, we hold that baptism conveys many gifts and calls us to live in Christ. Remembering our baptism can remind us of the close relationships we have been called to, both with God and with other believers. It can also remind us that, without our "earning" it or proving ourselves "useful" in any way, God claimed us, and God will continue to claim us.

A great resource for helping your congregants remember their baptism is the Come to the Water Leader Sourcebook. Drawing on Daniel Erlander's two baptism manuals, this sourcebook includes both Baptism Preparation and Baptism Review lesson plans for every age group, so that people of any age can prepare to be baptized or remember their baptism. With this sourcebook and its related materials, such as the Come to the Water animated video, the interactive kids' manual, and the Come to the Water board book, you can lead your whole congregation in a remembrance of baptism. The animated video is an integral part of the lessons in the sourcebook. The kids' manual is designed for elementary-age kids learning about baptism or preparing to be baptized, while the board book introduces young children to baptism and makes a great gift for families whose infants or toddlers are being baptized.
Daniel Erlander's two original illustrated baptism manuals are Water Washed and Spirit Born: A Baptism Manual for Youth and Adults and Let the Children Come: A Baptism Manual for Parents and Sponsors.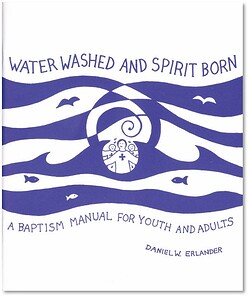 Water Washed and Spirit Born is for youth and adults preparing for baptism—yes, youth and adults can read illustrated books too! This manual can be used for adult classes or for individual study, and it includes information about the biblical background of baptism, baptism in the Roman empire, baptism during the Reformation, and contemporary baptismal practice.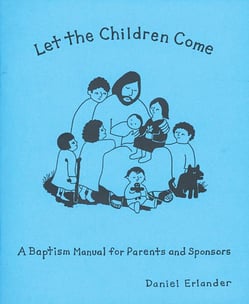 Let the Children Come is an introduction to baptism for children, parents, sponsors, and caregivers. It covers the origin of baptism, baptism in the New Testament, infant baptism, Luther's teachings, and the baptism service. It works as either a gift to parents and sponsors or as a manual for baptism preparation classes.
We hope that these resources help you and your congregation think about baptism in new ways and live into your baptismal call more fully.