Susan Palo Cherwien is a poet and musician whose hymn texts appear in denominational hymnals in the United States, Canada, and Europe. After growing up in Ohio, she attended Wittenberg University and then the Hochschule der Künste in Berlin. She later obtained a master's degree from Mundelein College in Chicago. Augsburg Fortress has published three collections of her hymn texts, in addition to an anthology she edited and a variety of anthems set to texts she wrote.
Collections of Susan Palo Cherwien's Hymns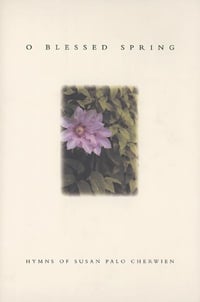 Twenty-seven of Susan Palo Cherwien's hymn texts are collected in this volume, many of them set to music by a number of today's top composers, including Robert Buckley Farlee, Ronald A. Nelson, David Cherwien, and Mark Sedio. Designed to facilitate congregational use, the collection includes a complete keyboard accompaniment (organ or piano) plus tests and melody lines for placement in worship folders after obtaining permission.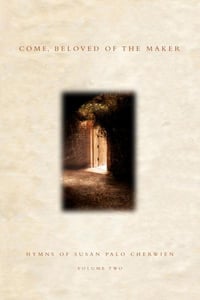 From the writer of hymn texts such as "O Blessed Spring" and "Rise, O Church, like Christ Arisen" comes this second collection of expressive texts for worship. Like her first collection (O Blessed Spring, 1997), each of the approximately 30 hymn texts comes paired with a tune that matches it well-some familiar, some new. These poetic, deeply rooted lyrics will serve worshiping assemblies well, and are recommended for composers looking for fresh material on which to base new hymn tunes and anthems.
In this third collection of hymn texts from the pen of Susan Palo Cherwien, we are offered thirty elegant poems intended to be sung by a worshiping assembly. As before, each text is presented in poetic form and then also with a tune to which it may be sung. Many of those tunes are newly composed, while some are from the classic repertoire. And as before, composers will find inspiration here for their own labors.
Edited by Susan Palo Cherwien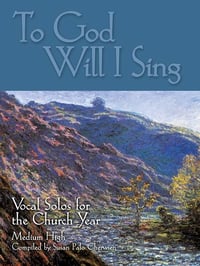 Here in a single volume are vocal solos that encompass the entire church year. Diverse in style, with compositions from seven centuries of the finest sacred music, this collection will become a standard resource for Sundays as well as for weddings, funerals, baptisms, and other occasions.
Anthems with Text by Susan Palo Cherwien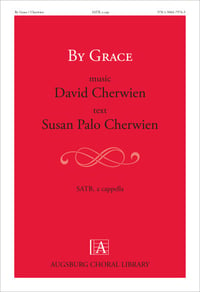 With sustained legato lines and subtly shifting harmonies, Cherwien's writing in this SATB a cappella anthem is both graceful and intriguing. Based on Ephesians, this is the perfect text for Reformation Sunday. This anthem could also be sung for confirmation and ordination services.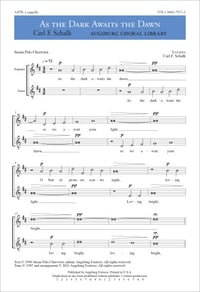 In this new setting, Carl Schalk has arranged his original Advent melody for a cappella choir, providing rich harmonies and lyrical text painting to carry the stirring text by Susan Palo Cherwien. We are honored to add this anthem to the significant body of music Carl Schalk gave the church.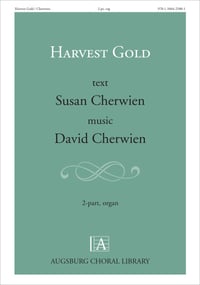 From the masterful minds of Susan Palo Cherwien and David Cherwien comes a new composition that is accessible for choirs of all sizes. Offering thanks to God, this work is the perfect addition to any library.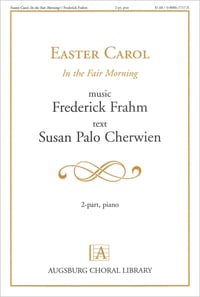 Here is that lovely second anthem for Easter morning—the one that contrasts with all the brass and fanfare. Frederick Frahm has taken this new text by contemporary poet Susan Palo Cherwien and set it for unison (or 2 pt) choir and piano with elegance and inspiration. Frahm always includes a "hook" in his music—look and listen for the "Alleluia" in this one. Older children, youth, or women would be exquisite on this music.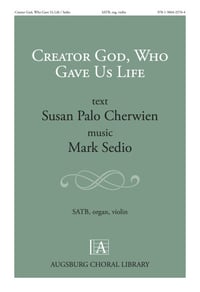 Susan Palo Cherwien and Mark Sedio team up to offer a lovely composition that is accessible to choirs of all sizes. In addition to choral and organ parts, this piece features a gorgeous solo line that can be played by violin, flute, or oboe.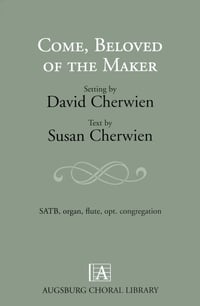 David and Susan Cherwien offer all that is new and beautiful in this elegant setting. Susan has written a profound text with poetic images of Epiphany and Transfiguration. In this text you can also find much appropriate to Lent and the Sundays of November as well. Married to the lovely tune and choral writing of David Cherwien, "Come, Beloved of the Maker" would be a wonderful addition to a choir's repertoire.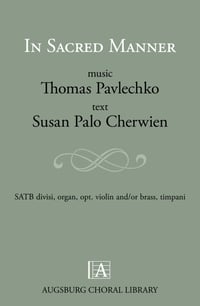 Modeled after chant, this austere and reverent piece pulls in the listener with a sense of motion and beautiful harmony. The simple setting allows the beauty of the text to truly shine.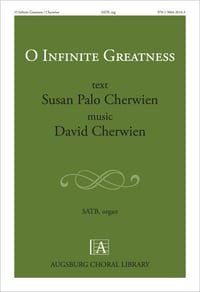 From the creative team of Susan Palo Cherwien and David Cherwien comes this new work for SATB choir and organ. Featuring language expressing the infinite and limitless nature of God, this piece allows offers choirs an effective mean through which to offer praise and thanks for all that God has done.